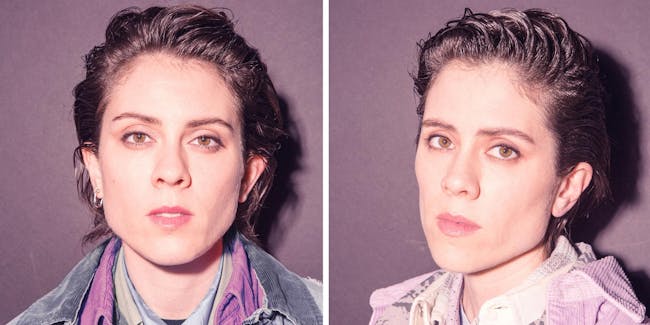 Oregon Zoo Summer Concerts presented by U.S. Bank
Tegan & Sara
IDER, Claud
$39.50 - $75.00
Postponed, NEW DATE TBD
Tegan & Sara
Tegan and Sara at the Oregon Zoo July 30, 2020 has been postponed for the foreseeable future. Refunds will automatically be issued at point of purchase.
From the band:
We have made the very difficult decision to postpone all our headline tour dates indefinitely. We have EVERY intention of touring once it's deemed safe to gather again, but at this time have decided not to announce new dates. Thinking of you all, and looking forward to being together again. Stay safe XO
At this time ticket sales are only available online. Thank you for your understanding as we upgrade the zoo box office systems.
Zoo Member Pre-sale starts: 3/11/20 @10am
Public On Sale: 3/13/20@10am
All sales are final—please check your order before purchasing, as refunds are not available
Your tickets will be emailed to you one week prior to the event
In 1995, at the height of grunge music, 15-year-old twin sisters Tegan and Sara Quin started their first band in Calgary, Alberta, Canada. The band was called Plunk and consisted of only two members: Tegan and Sara. Back then everyone called the twins Sara and Tegan, and outside school they mostly holed up in their bedrooms, crafting their first punk-inspired songs on their shared guitars. After graduation, Plunk (a play on "light punk") briefly became Sara and Tegan, but the sequence was soon shuffled to stand out better in a sea of bands named Sara(h): officially becoming the band Tegan and Sara in late 1999. Tegan and Sara have released 9 studio albums, slowly crafting a sound both unique and influential. Selling over a million albums before streaming came along, Tegan and Sara became indie darlings in the early aughts, playing every bar, club, theater, arena and festival stage along the way. They cut their teeth supporting some of the world's biggest bands: Neil Young, The Black Keys, Bryan Adams, Ben Folds, Paramore, Cyndi Lauper and The Killers, to name a few. Their indie rock staple "Walking With A Ghost" broke through on radio and was covered by The White Stripes. Later collaborating with dance artists like Tiesto, Morgan Page, Matthew Dear, David Guetta and Allesso, Tegan and Sara started to fuse their indie rock sound to a more electronic production style. After a decade-long run conquering the indie world, Tegan and Sara went into the studio with producer Greg Kurstin (Katy Perry, Adele, Kesha, Kelly Clarkson) in 2012 to record their seventh album, Heartthrob. The record thrust them into the pop world and set them on a course to alter the mainstream. Their single "Closer" was certified Gold in the US and Platinum in Canada, and went on to be covered by the cast of the TV show Glee, while Tegan and Sara inched further towards the mainstream with appearances on Ellen's hit TV show and an arena tour with Katy Perry. The loyal, passionate fanbase Tegan and Sara had methodically built expanded even more. Each year since Heartthrob has brought further reinvention. In 2014 Tegan and Sara signed up to be part of The Lego Movie and eventually performed their indelible single "Everything Is Awesome" at the Oscars with the Lonely Island and a dancing possum. In 2016 they released Love You To Death, the much anticipated follow up to Heartthrob, with a mission to queer the mainstream. In 2017 they launched the Tegan and Sara Foundation to help raise funds to improve the lives of LGBTQ women and girls. In 2018 Tegan and Sara were given the Governor Generals Performing Arts Award in Canada, the country's highest honor for creatives. In 2019 Tegan and Sara released their first memoir, High School, which quickly became a New York Times bestseller and recounts their teenage years in raw detail. In conjunction with the memoir, they released their 9th studio album, Hey, I'm Just Like You, an alternative pop record reimagining their first songs written back in the 90's in their bedrooms. This year Tegan and Sara are bringing a collection of their most loved songs to the stage, with an all new band, colorful production, and freshly cut bangs. Fans new and old can expect a lively pop show and unforgettable evening, but no dancing possums.

Venue Information:
Oregon Zoo
4001 SW Canyon Rd
Portland, OR, 97221