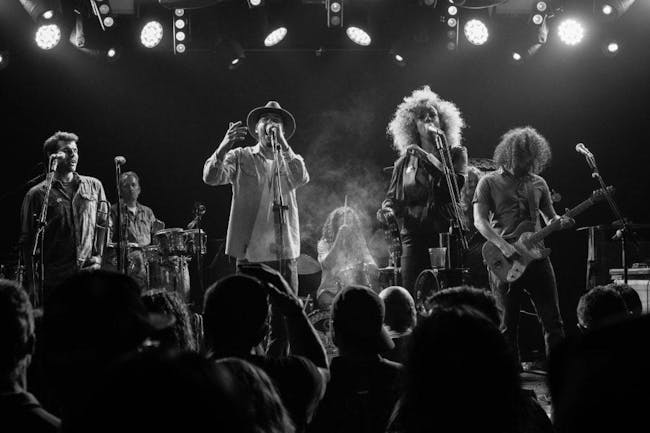 Starcrusher
ALL SALES ARE FINAL. PLEASE, DOUBLE CHECK YOUR ORDER BEFORE PURCHASING. NO REFUNDS.
TO ACCESS PRESALE TICKETS, CLICK ON "TICKETS" AND ENTER THE PASSWORD ON "ENTER PROMO CODE"
ORGŌNE
"After two and a half years on the road, we needed to shut away the rest of the world," recalls Sergio Rios, guitarist and engineer of Los Angeles-based band ORGŌNE. For their tenth* studio album, ORGŌNE retreated to the tranquil solitude of Joshua Tree in southern California. Ensconced in a ranch home with a recording studio for a week in November 2015, the band improvised late into the desert night, carving out tunes that would eventually become the bulk of the material on Reasons (self-released, due out January 18, 2019). The nine-song collection illuminates a band hitting its stride, capturing the raw power and refined sensibilities that defines ORGŌNE.
For nearly twenty years ORGŌNE (a universal life force, pronounced or-gōne) has churned out gritty funk and soul recordings and toured relentlessly across the United States and Europe. Traditionally both the studio and live iterations of the band drew on a tight-knit collective of the West Coast's finest funk and soul musicians—although founding members Sergio Rios (guitar/engineer) and Dan Hastie (keyboards) have been constant anchors. However, since late 2013, Rios and Hasite have been joined by Dale Jennings (bass), Sam Halterman (drums), and singer/lyricist Adryon de León to form a permanent nucleus.
Establishing a solid core of musicians was instrumental in creating such a cohesive, tight LP. "It allowed us to develop trust and be vulnerable with each other," says de León. From the a cappella opening of "All Good Things" to the dance floor filler "Easy Love," Reasons packs a punch. It's as if the listener is transported back to those sessions in Joshua Tree, staying up late and jamming with the band. As a producer, Rios shines: "I've learned to stop being so precious about every little detail. It's just art. Sketch your picture and move on."
That immediacy, a sense of capturing moments, saturates Reasons. Take the second cut, "Hands." Rios' rhythmic guitar figure kicks the tune off, perfectly syncing up with Halterman's solid boogie beat, dense percussion, and Jennings' fuzzed-out bass line. The verse brings down the dynamics (tom fills replace that driving beat), but de León's urgent plea for "less talk, more action" keeps the energy high. The massive chorus drops in after sixteen simmering measures and is pure joy. Hastie's edgy synth line perfectly complements de León's straightforward command: "Let your hands do the work." ORGŌNE manages to start the party and fill the dance floor, but they also dim the lights in an undeniably sexy bridge. At first, de León launches into the vocal stratosphere before coming back to Earth with delicate harmonies as the band channels late 70s Fleetwood Mac. A few half note hits later and we're back into the glory of the chorus. In just over four minutes ORGŌNE seamlessly channels disco, boogie funk, and smooth 70s California rock.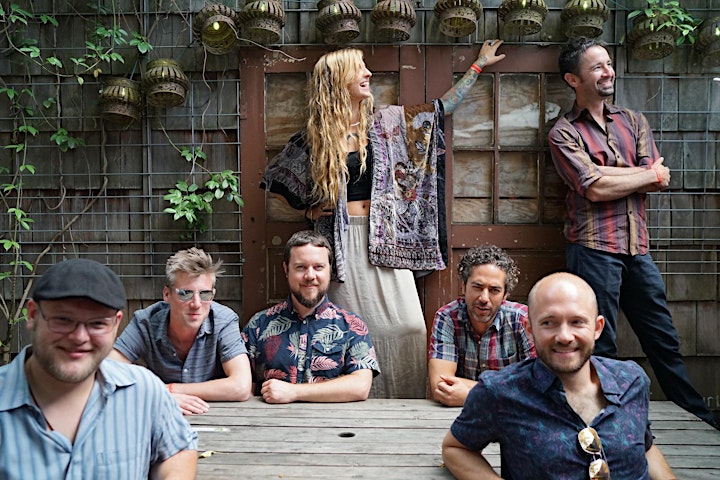 Star Crusher is a supernova of gravity-defying, smooth space funk and cosmic '70s era psychedelic rock and gritty soul. The seven-piece band features original compositions and ripping guitar playing from Teddy Presberg that are brought to life through the raw and emotional vocals of Jenny Jahlee.

Teddy is a sought-after producer/side-man and accomplished guitarist whose debut album, Blueprint of Soul, was picked up by the internationally renowned funk/jazz label Ropeadope Records (Medeski Martin and Wood, Charlie Hunter, DJ Logic, Snarky Puppy, etc.) and awarded "Staff Pick Top 10 album of 2007" from All About Jazz. He's released more than 12 albums since and now collaborates on several different musical projects across the country. A true behind the scenes, underground favorite for those who know.

Venue Information:
Aladdin Theater
3017 SE Milwaukie Ave.
Portland, OR, 97202